MEET ICE'S CHEF-INSTRUCTORS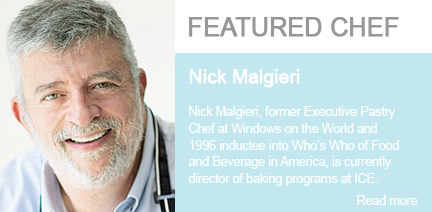 Our talented Chef-Instructors come from a variety of culinary backgrounds.
Meet our 'Top' chefs
Whether it's having worked at some of America's finest restaurants, written award-winning cookbooks, or opened and operated their own culinary enterprises, our staff and visiting faculty members bring their invaluable experiences into the classroom. Many of our recreational classes are taught by the same Chef-Instructors who teach in ICE's career training programs. These chef's have thousands of hours of teaching experience that will enhance your own experience at ICE.